Meet Chris Lawson
5/19/2018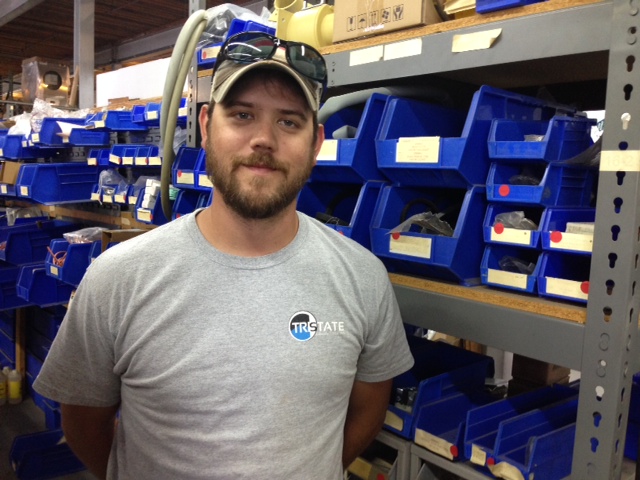 It is safe to say that Chris Lawson grew up in this business. His dad, Kevin Lawson, is the Vice President of Tri-State Laundry Equipment Company, so Chris started helping at age 16 with installs and preventative maintenance during summer breaks. After graduating from high school, he started working full-time doing repair jobs and has slowly worked his way into Service/Parts/Sales Manager. I would call him a 'Jack of all Trades', given his ability to do everything from solving a mechanical issue to tracking down hard to find parts to gutting and installing a dry cleaning or laundry facility. His dad says he's 'better than me at telling customers what part is needed for repair and how it applies to the machine.' Given what I know about his dad, I'd say that's a pretty big compliment.
Chris is an interesting guy – fantastic family man and incredible sharp-shooter, but I'm guessing that you'd like to know how he can help your business. Here are five things that will show you what an asset he could be to your business:
His knowledge of dry cleaning and laundry parts is unreal. He's configured a system to where we stock the most commonly needed and the most critical laundry, dry cleaning and coin operated machine parts to reduce customer down time. Tri-State mostly stocks Wascomat, Electrolux, Unimac, ADC, Speed Queen, Parker Boiler, Forenta, Unipress, and Ajax, but Chris can quickly and easily track down any part when given the right information. More importantly, with his years of experience, relationships with our techs, and connections with dealers around the country, he can also track down parts even if information is lacking.
In his time in this industry, he's noticed significant improvements in the way the equipment works. For dry cleaning, all of the new presses are operated by computer boards, and for laundry, extract speeds of washing machines have increased greatly along with programming via Bluetooth. While these advances help with trouble shooting, the down side is that advances in technology usually come with an increase in pricing.
He likes helping customers improve their quality, productivity, and overall laundry processes. To be successful in this area, Chris believes he needs to know a little bit on just about everything. That's why he goes to every available manufacturer's training and tours their headquarters when given the opportunity.
He enjoys going above and beyond for his customers. For instance, he once got into his truck at 5:00 p.m. on a Friday afternoon and drove to Virginia to meet a customer and give him a boiler part so that the customer wouldn't be down come Monday morning. And there was the time that he once helped our install crew completely gut and rebuild a dry cleaners in Lumberton, North Carolina over the fourth of July holiday, taking 97 hours and being completed in five days.
Just as he gets great satisfaction about going above and beyond, he is equally as frustrated when he spends hours looking for a part that no one has or can get. One of the things he dislikes the most is not being able to come through for a customer.
In closing, Chris wanted to share the following piece of advice: "Always keep your eye on quality. Something may be enticing because it's cheaper, but quality always wins in the end." Sound advice from a super-qualified guy. If you are having issues with getting the dry cleaning and laundry parts you need, consider giving Chris a call at 866.885.5218. He'll move heaven and earth to try and help you.