10/16/2019
Clothes are placed in a dryer while wet, and magically, they are dry once the cycle is complete. How does that happen? In a nutshell, dryers are a rotating oven that cook water out of garments and linens by blowing hot air across the fabric and out the stack. It's a simple yet ingenious invention, and it works marvelously – provided we properly care for this piece of commercial laundry equipment. Unfortunately, problems arise when you don't provide proper care.
How Lint Build Up Decreases Dryer Efficiency
As the fabric dries while the wheel turns and the warm air blows, lint is created. The lint filter is designed to collect the lint, but not all of it is collected, so some is stuck in the blower and sticks to the inside of the dryer frame, around the door, and anywhere else it can collect. This causes operation issues like:
The sail switch, a small micro switch that is triggered when the blower moves the air out through the duct to tell the gas valve to come on, does not operate properly.
The door will not seal properly, which causes the dryer to lose heat and leak carbon monoxide from the burnt gas.
To avoid a build up of excess lint, Tri-State recommends the following preventative maintenance procedures:
Check your filters regularly for holes that might allow lint to go straight into the dryer frame and airways.
Remove the front panel and clean out all the lint around the burner as well as clean the blower cage.This will go a long way to increase the dryer's efficiency and reduce drying times.
Burners should be taken apart and cleaned to remove corrosion that will block the burner openings and provide for good, even heating.
Clean the duct, which will again help with efficiency.
On an important note, these routine procedures will also help reduce the chances of a dryer fire.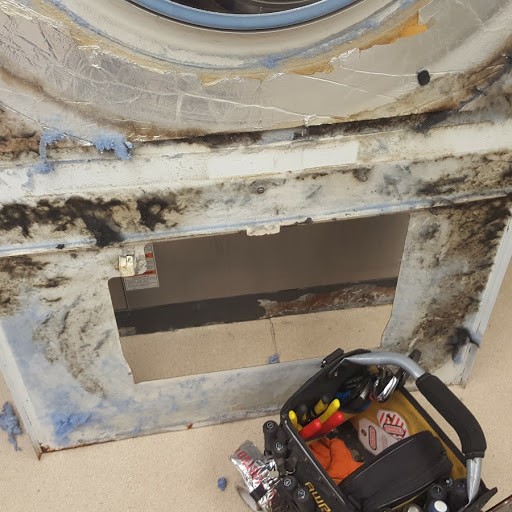 The pictures included show how much lint can build if not removed, and that's in any dryer, American Dryer Corp, Wascomat, Electrolux, and B&C Technologies. All of these brands have good lint filter systems and offer filter cleaning warning signals, lights, or displays when the filter is full causing reduced air flow, but that doesn't account for the buildup.
So, take apart your dryer and clean it out. You'll notice faster dryer times, enjoy utility savings, and worry less about dryer fires. Feel free to call Tri-State Laundry Equipment at 866-885-5218 if you have any questions about dryer maintenance or care.