Meet Joe Moore, Mechanic at Tri-State Laundry Equipment
4/16/2020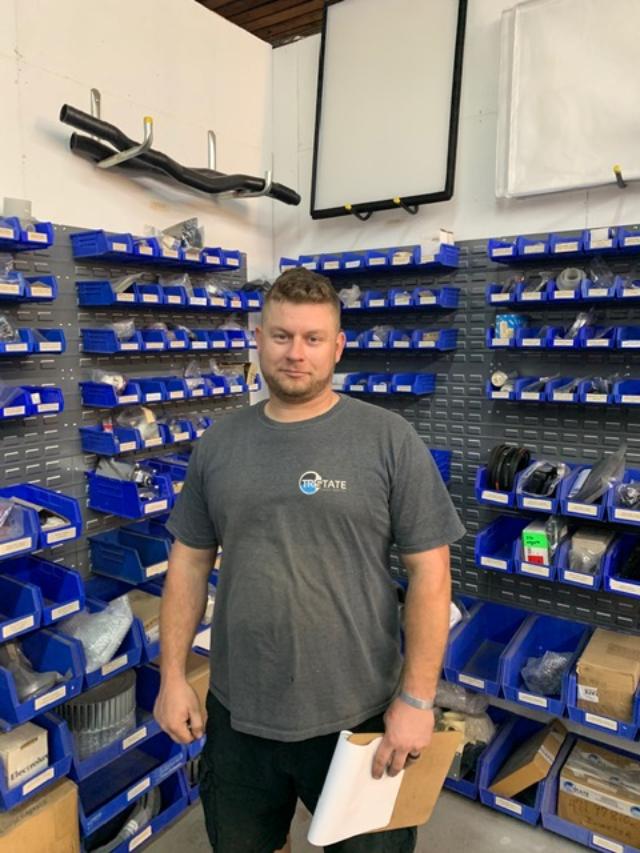 While the country is on lockdown because of Covid-19, Joe Moore is still out and about working on laundry and dry cleaning equipment; after all, clean clothes are essential. Even though Joe is the newest member of the Tri-State team, having only been with us 2 ½ years, he's proven himself quite capable.
One of the things I love about Tri-State is that there's always a story, and how Joe joined the group is no exception. Chris Lawson works part-time at a gun store in Rural Hall, and Joe, who I am learning is a man of many talents, was the Gunsmith there. The two became friends, Chris mentioned Joe to his dad, and the rest is history.
Why Joe is a Great Fit for the Job
"Joe is smarter than your average bear," said Kevin Lawson, Vice President of Tri-State (which seems like a funny thing to say given that Joe and I talked about hunting, and he said bear meat was his least favorite game to cook or eat). "He had no experience in our industry, but I hired him because he is former military and that always translates to hardworking, disciplined, and dedicated. It didn't take me long to figure out that he was the right fit for our team." Speaking of military, Joe is a former Marine having served in 5 tours.
When I talked to Joe, I asked him if they 'threw him to the wolves.' He laughed as he said 'basically.' "But the first time at anything is always difficult, and I think older machines are much easier to work on than the newer ones. You just start with smaller problems, solve them, and before you know it, you're off and running," said Joe.
What Joe Likes About Working at Tri-State
Joe is pleased to be a part of the Tri-State team. "Everyone is competent and does their thing. We look out for each other. My boss works just as hard as I do, and the owner is concerned about our well-being." We are also pleased that Joe is a part of the Tri-State team. "Not only is he mechanically inclined and a quick study, he's also the right fit personality wise. It's a man's shop. We travel together, and the work can sometimes be hard and dangerous. I couldn't be more pleased that Joe joined our team," stated Kevin.
Joe's pleased, we're pleased, and you should be pleased if Joe shows up to work on your dry cleaning or laundry equipment or assist with an install. Should you need assistance from Joe or anyone at Tri-State, simply call 1-866-885-5218 or visit our contact us page .