Producing Hot Water for a Small to Medium Size Commercial Laundry
7/16/2019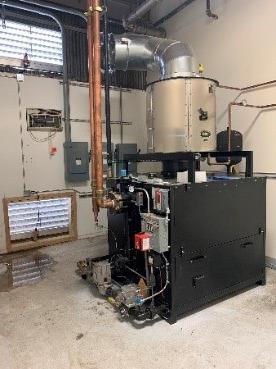 In our last blog post, we discussed that A Cleaner World Commercial and Uniform Services started providing uniform and floor mat rental, restroom and restaurant supplies, and shop towels roughly nine years ago. Initially, their operation was small, and over time, we helped them piece together an adequate system. Adequate was no longer good enough, so we recently upgraded their washers and dryers with a line from B&C Technologies.
In addition to the necessary commercial laundry equipment for washing and drying, we all know that hot water is a critical element for a high-quality commercial laundry business, and there are plenty of opinions on the subject. Given that Tri-State is a tried and true Parker Boiler Distributor, we turned to their engineers and most experienced distributors for advice.
Common Hot Water Boiler Problems:
Direct steam injection, which is tough on boilers because of the one-way steam and no condensate return.
Hot Water Boilers being used to heat stored wash water through circulated plate heat exchangers.As a result, you'd be running and relying on two pumps to circulate the water for heating and filling the machines.This can be costly for a smaller operation, trying to get the best quality wash they can for the smart buck.
Ultimately, we came up with this solution:
After speaking to our above-mentioned resources, we were advised to design a hot water system with an indirect Parker Water Heater, which is incredibly sturdy, and set it up for a high temperature of 190 degrees.With their linen production daily and weekly poundage numbers in hand, we figured gallons of water for process at 2 ½ per pound on linen and came up with amounts needed both now and in the future.Our answer is approximately 2.1 million gallons, assuming 70% of the production is hot wash.That led us to the Parker WH-3000 A 3 million BTI Indirect Water Heater that produces around 1,280 gallons on 190-degree water; plus, it has a bit of room for expansion.
After deciding on the water heater, the next issue to discuss with our team was water storage and washer fill times.Our experts determined the best option was 1,250 gallons of storage using a Parker Cement Lined Storage Tank circulating constant to our WH-3000, fitting our washers with a 2" city water feed.
This system will be live by the time we are ready for our August blog post, and we will report on the results as well as our solution for a simple hot water drain pit BTU recapture system, tempered water storage and heating, and Cain stack heat exchanger on the stack of the WH-3000 to help with tempered water makeup. Lots of exciting stuff happening for both A Cleaner World Commercial and Uniform Services and Tri-State Laundry Equipment!