Used Unipress
Contact Us on Great Used Unipress Deals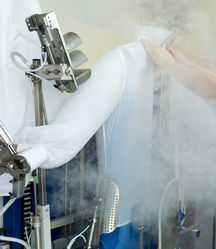 Purchasing used Unipress garment steamers or presses for your business can save you hundreds if not thousands of dollars in overhead. Laundry equipment that helps you get the task at hand completed faster means more money in your pocket in the long run but only after the equipment is paid off. Why purchase new Unipress laundry equipment when you can buy good used Unipress equipment from Tri-State Laundry Equipment?
Unipress is a well-known brand in the garment manufacturing industry as well as local laundry services so we keep parts on hand as well as used Unipress equipment that we refurbish and resale. Used laundry equipment from the Unipress line can help speed the process at your facility allowing shirts to go from the dryer to the hanger, neatly pressed and packaged. You'll be providing your customers with wrinkle-free garments in seconds without the hassle of using an upright, hand-held steamer and at a significant reduction in cost.
You'll have the added peace of mind knowing that, if for any reason your Unipress unit needs a part or repair, Tri-State will either have it in stock or can get it quickly.
Before you invest in an upgraded garment steamer for your laundry business, call or visit Tri-State Laundry Equipment for a great deal on a used Unipress.