Used Commercial Boilers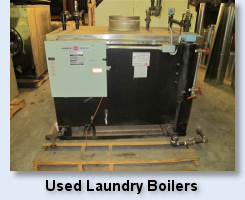 Used commercial boilers can save you hundreds of dollars compared to buying new laundry equipment or dry-cleaning equipment. Wherever you need hot water or steam in seconds, whether your shop's focus is dry cleaning services or a coin-op laundry, consider purchasing used commercial boilers from Tri-State Laundry Equipment to keep water hot and ready to launder or steam press articles of clothing. You already know that hot water cleans faster and better than cold water so, if you're a dry cleaner, faster turnaround time with great results produces repeat business and additional clientele. If you're a full service laundry, cleaner, brighter clothing pressed for the customer and ready to wear in just a few hours helps you build and maintain an excellent reputation.
Servicing used commercial boilers after purchase - regardless of brand - is another necessity and a service that you will want from Tri-State Laundry Equipment to prevent solids from building up in the used boiler. Solid buildup prevents good heat exchange and results in "mud legs" - a low-flow area where dirt and lime scale can settle out of the steam and condensate stream. You don't want to risk a laundry boiler break down or discoloration of fabrics in your shop.
Laundry boilers, whether they are used or new, are designed as steam boilers, blowdowns, or return systems. Tri-State Laundry Equipment inspects all incoming used commercial boilers, repairs each to factory specifications or better, and delivers them to your business location safe, clean and in good working condition!  Every used commercial boiler from Tri-State Laundry is guaranteed to perform upon your receipt. We stand behind our laundry equipment, whether it is new or used.
Tri-State Laundry has used boilers from leading manufacturers such as Fulton, Parker and Rema. After all, the better your laundry equipment, the better your business operates and better businesses outgrow the competition. Contact Tri-State Laundry Equipment now for help choosing used commercial boilers for your commercial laundry.