Installing Dual 25 H.P. Parker Boilers
1/8/2020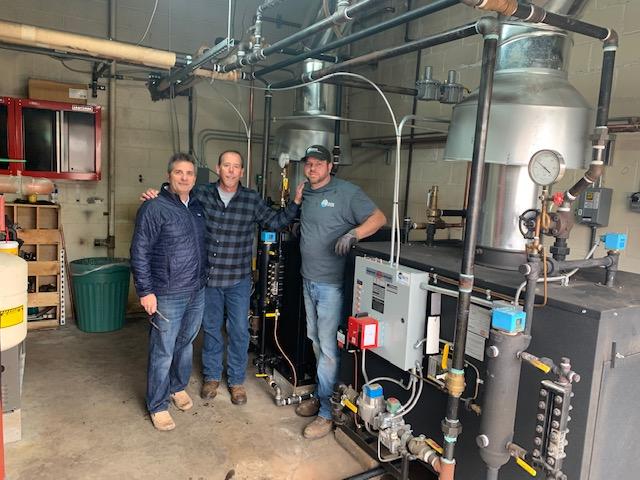 Several years ago, we introduced you to Rich Volk of Bowen Cleaners in Greenville, North Carolina when we installed two Realstar 80lb Dry Cleaning machines using DF2000, a synthetic hydrocarbon fluid. Over the years, Rich and I have become good friends, and our families often vacation together. This gives us an opportunity to talk business – even when our wives wish we wouldn't.
Rich has steadily worked toward fail-safe plans for every portion of production given his central plant does production for six drop stores; this puts a lot of production pressure on his operation. Over the years, we've not only provided him with the Realstar Dry Cleaning Machines, we've also installed dual Unipress double bucks, and he has two of everything Sankosha offers for dry cleaning finishing.
During a recent conversation, I was reminded that Rich was running his plant with a 1996 Parker 50 H.P. boiler that I found used in a closed-down Hanes Brands facility. Rich, having grown up in the dry cleaning and laundry business in San Diego, was quite familiar with Parker Boiler, which is headquartered in Los Angeles. He had always used Parker and knew their products very well.
How our Relationship With Parker Boiler Began
It's interesting how things work out. At that time, we didn't sell Parker Boilers, so I called Mike Lemming at Parker Boiler to learn more. This led to a meeting at an upcoming The Clean Show and ultimately the Parker Boiler/Tri-State Laundry Equipment relationship was born. Fifteen years and 150+ boiler sales later, we couldn't be happier with the performance and durability of Parker Boiler products.
As Rich evaluated his options for replacing his nearly 25 year-old boiler, he again wanted to have a fail-safe plan in place . He chose dual 25 H.P. boilers along with having Tri-State fabricate a sweet stainless return system. It included dual 13 stage 1.5 H.P. pumps, electronic level and fill controls with no possibility of a faulty $20 float valve to go bad and cause steam production issues. Now if one boiler goes down, he still has the ability to operate his plant with a little load shifting until his other boiler is back online.
When I stood back to admire the finished product, I was convinced that Rich has one of the nicest dry cleaning laundry boiler rooms I'd ever seen. Tri-State was really proud to have been the company chosen to complete this project, and now Rich has piece of mind when it comes to the needed steam to operate his facility. Giving Rich piece of mind isn't an easy task.